Do I Have a Case if I Fell on the Sidewalk?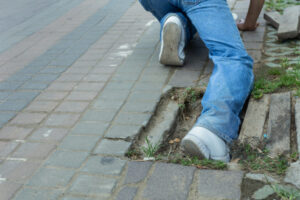 If you fall on a sidewalk and sustain personal injuries, then you may have a claim for compensation. In order for your case to be successful, you must be able to establish certain legal elements to establish that the owner or possessor of the sidewalk is liable. Because these cases can be complex, you should seek out legal representation from Chicago Premises Liability lawyers.
When does a sidewalk fall case qualify for a claim? 
In order for you to recover damages in a sidewalk fall case, you must be able to show that there was a hazard on the sidewalk that the owner or possessor failed to appropriately warn about or otherwise remedy. Owners and possessors of land owe a responsibility to protect against foreseeable dangers on their property.
If you can establish that the sidewalk owner or possessor knew or should have known about the hazard on the sidewalk, then you may have a claim for damages. Some sidewalk hazards that may give rise to a claim include:
Potholes
Uneven surfaces
Cracks and divots in the pavement
Debris
Snow and ice
Obstructions on the sidewalk
If a hazard on a sidewalk can be shown, then you must be able to demonstrate that your injuries came as a result of the hazard. For example, if you trip and fall in a pothole on a sidewalk, then you must be able to identify the injuries that resulted from that fall.
What should you do if you fell on a sidewalk? 
If you fell on a sidewalk and suffered injuries, then there are some things you can do to improve your chances of receiving a settlement. This includes the following:
Document the sidewalk hazard through photographs, video recordings, and measurements
Identify any witnesses to the fall
Notify the owner of the sidewalk of the injury
Seek out immediate medical treatment for your injuries
Keep detailed notes about the incident, your injuries, and your recovery
Contact a personal injury attorney in Chicago IL
What happens if you file a claim?
In many situations, the owner of the sidewalk will have property insurance to cover claims for accidents that occur upon the premises. If there is insurance coverage, then a claim will be submitted to the insurance for a certain dollar amount. The amount claimed should be sufficient to cover your medical expenses and other damages suffered as a result of the fall. A Personal Injury Lawyer in Chicago can help you determine what amount to claim.
After the claim is made, the insurance company will either accept the claim and make payment, make a counteroffer, or deny liability. If the insurance company makes a counteroffer that is insufficient or if they deny liability, then you can pursue your claim through the court.
If your case proceeds to court, then a Chicago personal injury lawyer will represent you in the process and take the case to trial if a resolution is not reached. At trial, a jury will determine whether the sidewalk owner is liable and how much they should be required to pay.
Why should you contact an attorney for a sidewalk fall case? 
Our personal injury attorneys in Chicago can provide legal representation throughout all phases of your case. We will help you know what is fair and how to achieve the best result. We will advocate for you to receive a fair settlement that provides adequate compensation.
If you have been injured from a sidewalk fall, contact Trapp & Geller to speak with an experienced Chicago personal injury attorney.